Sanitary Napkins Without Wings
1.Absorbency: Sanitary napkins employ highly efficient absorbent materials, such as wood pulp and superabsorbent polymers (SAP), which rapidly soak up and lock in menstrual flow, ensuring dryness and comfort.
2.Comfort: Typically made from soft materials with skin-friendly properties, sanitary napkins provide a pleasant wearing experience, reducing discomfort or irritation.
3.Versatility: There is a wide variety of sizes and types of sanitary napkins available to cater to different body shapes and menstrual flow intensities.
4.Applicability: Sanitary napkins are suitable for various stages of menstruation, accommodating light to heavy menstrual flows.
5.Safety: Sanitary napkins undergo strict quality control and hygiene certification, ensuring their safety and reliability.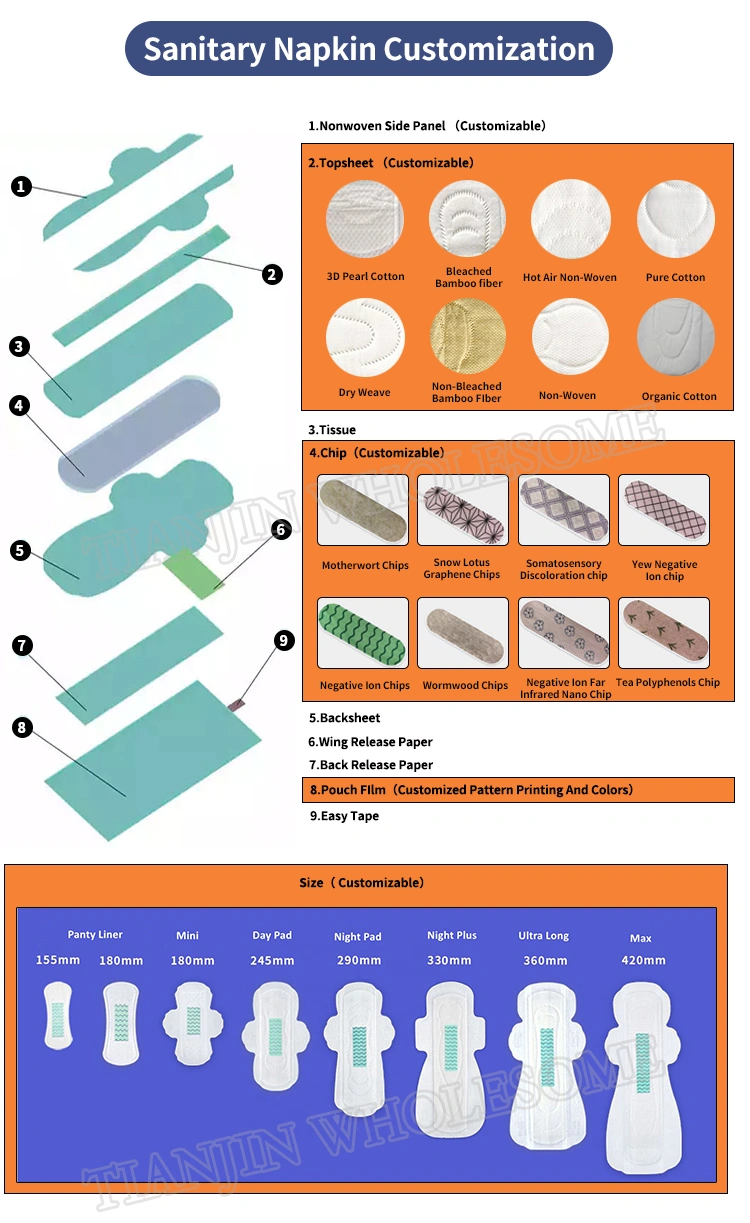 Sanitary napkins are essential feminine hygiene products designed to provide comfort and protection during menstruation. Sanitary napkins are divided into daily use and night use according to size, common sizes are: 240mm, 280mm, 320mm, 420mm.
These pads consist of several layers, each serving a specific purpose to ensure optimal absorbency and leakage prevention.
There are many materials for the surface layer to choose from, such as

hot air non-woven fabric

,

pure cotton

,

spunbond, mesh, and biodegradable

, which can effectively absorb moisture and keep users dry and comfortable.

The Tissue layer lies the absorbent core, typically composed of wood pulp and superabsorbent polymers (SAP), swiftly absorbing menstrual flow and locking it away to prevent leakage.

For the chips of sanitary napkins, we also provide a variety of raw material options.For instance,Negative ion chip,Blue ADL,Tea Polyphenols chip,Organic Herbal chip and more choices.

The Backsheet layer can be customized with patterns and logo.

Some pads may come with wings, extended flaps that fold over the edges of underwear, offering additional protection against leakage and keeping the pad securely in place, particularly during active movements.

Both Pouch

 

Film and PE/Clothlike

 

Film can support pattern and color customization.
Wholesome is a leading manufacturer, supplier, and exporter of premium-quality Sanitary Napkins, with a primary focus on catering to wholesale orders do not engage in retail sales. We take immense pride in offering a diverse range of sizes and design, ensuring that our Sanitary Napkins meet the varied needs and preferences of our esteemed customers.
If you are interested in ordering our top-notch Sanitary Napkins, we invite you to contact us at your earliest convenience. Our dedicated team will be more than happy to discuss the available options, customization possibilities, and pricing details to cater to your unique needs and ensure a seamless and satisfying procurement experience.