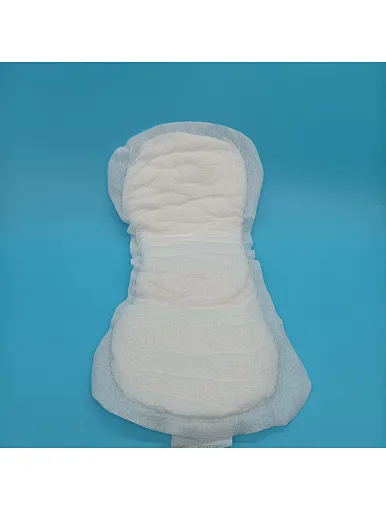 420mm Pregnancy Towel 8 Type
1.Comfort and Safety: Designed ergonomically for comfort and safety.
2.High Absorbency: Efficient absorption to keep you dry.
3.Gentle on Skin: Soft material that cares for delicate skin.
4.Side Leak Protection: Effectively prevents side leaks and embarrassment.
5.Breathable: Excellent breathability for healthier skin.
Embracing the profound phase of motherhood, maternity pads stand as a testament to thoughtful design, catering to the unique needs of new mothers. Also recognized as postpartum pads or maternity sanitary pads, they epitomize comfort and absorbency during the postpartum journey. This line of care is available in both the 8-type and straight type, aligning performance and convenience in perfect harmony.
The Inner Layer, A Gentle Haven: Crafted with the softest non-woven fabric or gentle cotton material, the inner layer of these pads extends a tender touch to delicate postpartum skin. This nurturing embrace minimizes the potential for discomfort and irritation, reaffirming our commitment to maternal well-being.
The Core of Absorption: Empowered by the fusion of superabsorbent polymers (SAP) and wood pulp, the absorbent core showcases remarkable efficiency in swiftly capturing postpartum bleeding, or lochia. This dynamic duo ensures a fortress-like leak protection, translating to a dry, hygienic, and undisturbed experience.
The Outer Shield, Resilient and Secure: Enveloped in a resilient waterproof layer, often harnessed from polyethylene or equivalent materials, the outer layer plays the role of guardian. Its unwavering defense prevents any potential seepage onto garments or bedding, ushering in a renewed sense of confidence and tranquility.
Generous Coverage, Unwavering Protection: In acknowledgment of the heightened postpartum flow, these pads extend their dimensions, embracing the contours of the body. The ample coverage ensures protection that surpasses the ordinary, reassuring new mothers as they navigate this transformative period.
As a distinguished manufacturer, supplier, and exporter, our company is dedicated to providing top-tier Maternity Pads, with a specialized  focus on catering to wholesale orders. Celebrated for their luxurious softness, rapid absorbency, and remarkable skin compatibility, our Maternity Pads emerge as the embodiment of choice for new mothers on their postpartum recovery odyssey.
Should you be considering the acquisition of our premium Maternity Pads, we wholeheartedly invite you to initiate contact at your earliest convenience. Our passionate team is poised to explore a myriad of available options, delve into potential customization features, and deliver transparent insights into pricing details. Our aspiration lies in ensuring a procurement process that resonates seamlessly with the profound significance of this remarkable life juncture.