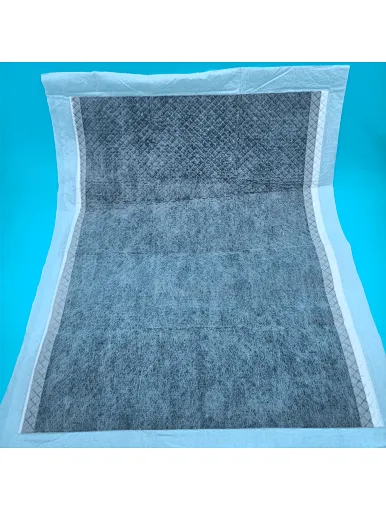 Disposable Pet Mat Pee Pad
1.Convenience: Pet owners only need to place the pad, eliminating the need for frequent washing.
2.Hygiene and Health: High absorbency materials swiftly absorb urine, keeping the pet's environment clean and dry.
3.Leak-Proof Design: The leak-proof layer and anti-slip bottom design reduce the likelihood of urine overflow and sliding.
4.Odor Reduction: The inducer and fragrance are specially added to help pets form the habit of positioning to go to the toilet faster, and it also helps to reduce odor.
5.Versatility: Suitable for pet training, senior pets, or indoor activities.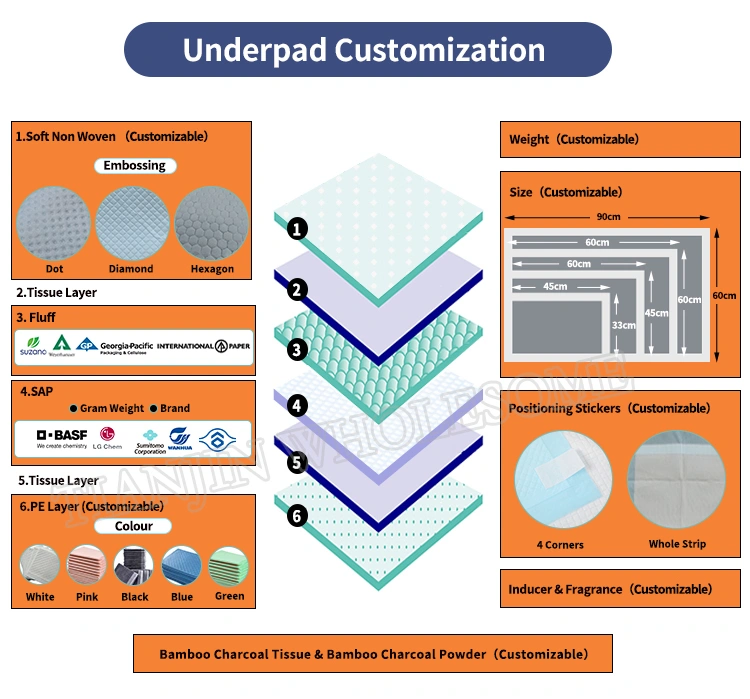 Disposable Under Pad, also referred to as bed pads for elderly or  incontinence adult pad, are an essential product for individuals managing incontinence.
The most common sizes are  45*60cm,60*60cm,60*90cm, 80*180cm,and they are also available in smaller or larger sizes.
Disposable Under Pad generally consists of the following layers:
First Layer:The surface is made of soft non-woven fabric, and the embossed pattern on the surface, such as

dots, diamonds, hexagons

, etc., can be customized according to customer requirements.

Second Layer:Tissue Paper holds SAP and fluff pulp in place for absorption and stability.

Third Layer: The Fluff Pulp provide additional absorbency to effectively capture excess moisture from the skin. Brands such as

IP,GP,SUZANO and Weyehaeuser

 are known for their high quality wood pulp, providing reliable performance and long-lasting moisture absorption.

Fourth Layer:The SAP is a highly absorbent material that can effectively lock in moisture and prevent leakage. We can provide customized services such as gram weight and brands, with brands such as

SUMITOMO, LG, San-Dia and BASF

 being popular options.

 Fifth Layer: Together with the second layer of tissue paper, it holds the fluff pulp and SAP in place.

 Last Layer: Breathable PE Backsheet prevents liquids from soaking through.We have

white, green, pink, blue and other colors

 available for customization.
For the back sticker, Wholesome can also provide four corners back sticker or straight strip back sticker, the back sticker can also be customized pattern printing.Wholesome Underpads can also be infused with fragrances and scents to provide a pleasant and refreshing experience for the user. These added fragrances can help mask unpleasant odors and provide a sense of comfort and freshness.
Our company is a prominent manufacturer, supplier, and exporter of high-quality Underpads, primarily catering to wholesale orders. Our Underpadsare widely recognized for their soft texture, fast absorbency, and excellent skin compatibility. We offer a range of sizes to meet the diverse needs of our customers.
Please note that we exclusively cater to wholesale orders and do not retail our products. The price is dependent on the quantity purchased. If you are interested in ordering our products, please contact us at the earliest opportunity to discuss the available options and pricing!