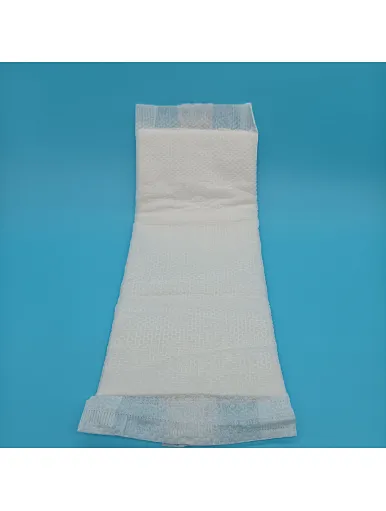 400mm Thick Straight Postpartum Pad
1.High Absorbency: Maternity pads offer excellent absorbency, effectively managing the heavy postpartum flow, and providing all-day protection.
2.Comfort and Softness: The soft top layer ensures a gentle and comfortable experience, especially during the sensitive postpartum period.
3.Leak-Proof: The leak-proof backing prevents any leakage, keeping clothing and bedding clean and stain-free.
4.Tailored Design: The longer and wider design provides ample coverage and ensures optimal protection for new mothers.
5.Postpartum Care: Maternity pads are specially designed to cater to the specific needs of new mothers during the postpartum period, providing comfort and support during this crucial time.
At the heart of maternal care, Maternity Pads, also referred to as Pregnancy Towel or Bladder Control Pads, are thoughtfully crafted to offer unmatched comfort and absorbency for new mothers during the crucial postpartum phase. Designed with utmost care, they are available in both the  8-type and straight type, guaranteeing optimal performance and convenience.
The Top Layer (Inner Layer): Crafted from tender non-woven fabric or cotton material, this layer provides a soothing and gentle sensation against the delicate postpartum skin, minimizing the risk of irritation.
The Absorbent Core: Featuring an amalgamation of superabsorbent polymers (SAP) and wood pulp, the absorbent core efficiently and rapidly absorbs postpartum bleeding (lochia). This dynamic combination ensures unrivaled leak protection, keeping the experience dry, hygienic, and comfortable.
The Leak-Proof Backing (Outer Layer): Designed with a resilient waterproof material, often polyethylene or similar, this layer acts as a fortress, thwarting any potential leakage onto clothing or bedding. This offers a boost of confidence and tranquility during this transformative period.
A Lengthy and Broad Design: In recognition of the intense postpartum flow, maternity pads extend their coverage, providing ample safeguarding that surpasses that of standard pads. The extended length and width offer enhanced protection and reassurance.
As an esteemed manufacturer, supplier, and exporter, our company is dedicated to offering top-tier Maternity Pads,  specially tailored for wholesale orders. These pads are renowned for their opulent softness, rapid absorption, and exceptional skin compatibility, rendering them the ultimate choice for new mothers during their postpartum recovery journey.
If you're considering acquiring our premium Maternity Pads, we warmly invite you to get in touch at your earliest convenience. Our devoted team is enthusiastic about discussing the array of available options, potential customization features, and providing transparent pricing information.