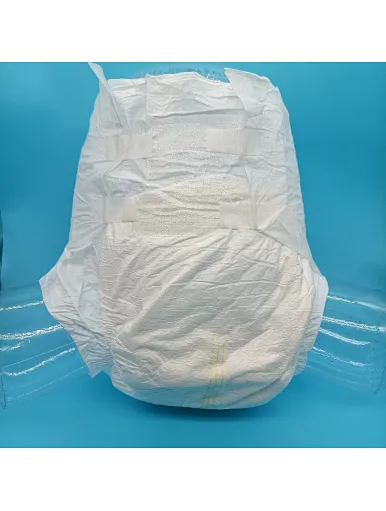 Incontinence Adult Diaper with Tab Clothlike Backfilm
1.Soft and Comfortable: The bottom film material is soft, offering users a gentle and comfortable experience.
2.Leak-Proof Design: Thoughtfully engineered leak guards prevent side leaks, providing enhanced protection.
3.Breathable: The bottom film's breathable properties contribute to maintaining skin health.
4.Excellent Release Performance: Unique bottom film material minimizes friction against the skin, safeguarding it from irritation.
5.Flexible Fit: The diaper's elastic and adjustable features ensure a comfortable and secure fit for different body shapes.
Adult diapers are a kind of daily necessities that some of our special industries or special groups need.The following is the structure and customization of adult diapers:
The top sheet is soft nonwoven Fabric.This can choose Spunbond nonwoven,hot air nonwoven or other materials.Allows urine to pass through to the absorbent core while preventing backflow.

The Leg Leakguard is located around the leg openings to provide a secure and comfortable fit.

Acquisition Layer main function is to guide urine quickly through the adult diapers, ensuring rapid dispersion and even distribution of wetness to the absorbent core. It can be customized in size and color (blue or green).

As Absorbent Core,Fluff Pulp and SAP can quickly absorbs and locks away liquid, converting it into gel to prevent leakage and odor. Their brands can also be customized according to customer requirements.

 The Wetness Indicator layer is typically made of chemical indicators or other specialized materials. When urine passes through this layer, these chemical indicators undergo some form of change, often a color transition. For example, they may change from yellow to blue or another noticeable color, clearly indicating that the adult diaper has been used.We can provide customized color and number of strips according to customer requirements.

 For Backsheet, it has  PE Film and Clothlike Film.The PE base film can be printed with patterns and then turned into ABDL products.Both of them can act as a barrier and keep liquid inside the diaper and protecting clothing and bedding.
For Fastening System, Either  PP sticker  or  Magic sticker  is for securing the diaper in place.We also support  Big S cut diaper.
The frontal tape can support  BOPP tape  and  Magic tape,which can printed with patterns.

Elastic Waistband can also be added to suit for different wasit size.
Wholesome is a leading manufacturer, supplier, and exporter of premium-quality Adult Diapers, specializing in  catering to wholesale orders. Wholesome Adult Diapers have gained widespread recognition for their superior comfort, rapid absorbency, and exceptional skin-friendliness. We offer a diverse range of sizes to meet the varied requirements of our esteemed customers.
It's essential to note that we exclusively  focus on serving wholesale clients and do not engage in retail sales of our products. The pricing of our Adult Diapers is determined by the quantity ordered. If you are interested in placing an order for our Adult Diapers, kindly get in touch with us at your earliest convenience to explore the available options and discuss pricing details!