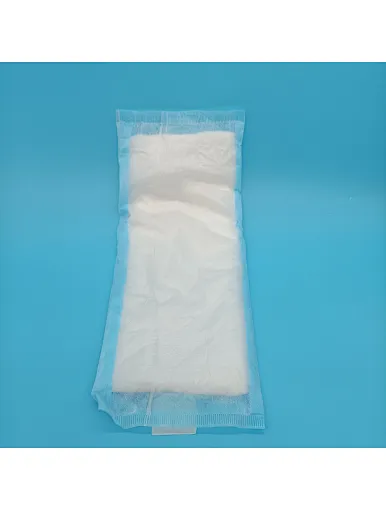 410mm Straight Maternity Pad Thick Pregnancy Towel
1.High Absorbency: Maternity pads offer excellent absorbency, effectively managing the heavy postpartum flow, and providing all-day protection.
2.Comfort and Softness: The soft top layer ensures a gentle and comfortable experience, especially during the sensitive postpartum period.
3.Leak-Proof: The leak-proof backing prevents any leakage, keeping clothing and bedding clean and stain-free.
4.Tailored Design: The longer and wider design provides ample coverage and ensures optimal protection for new mothers.
5.Postpartum Care: Maternity pads are specially designed to cater to the specific needs of new mothers during the postpartum period, providing comfort and support during this crucial time.
Maternity pads, also known as pregnancy towel or maternity sanitary pads, are specifically designed to provide comfort and absorbency for new mothers during the postpartum period. They are divided into 8 type and straight type to ensure optimal performance and convenience.
Top Layer (Inner Layer):
Made of soft, non-woven fabric or cotton material.Provides a gentle and comfortable feel against sensitive postpartum skin, reducing the risk of irritation.
Absorbent Core:
Composed of superabsorbent polymers (SAP) and wood pulp.Rapidly absorbs lochia (postpartum bleeding), providing superior protection against leaks and ensuring a dry and hygienic experience.
Leak-Proof Backing (Outer Layer):
Constructed with a waterproof material, often polyethylene or similar.Prevents any seepage onto clothing or bedding, promoting confidence and peace of mind.
Long and Wide Design:
Maternity pads are longer and wider than regular pads to provide ample coverage and better protection during the heavy postpartum flow.
As a prominent manufacturer, supplier, and exporter, our company specializes in providing high-quality Maternity Pads, catering primarily to wholesale orders. Wholesome Maternity Pads are well-known for their luxurious softness, rapid absorbency, and exceptional skin compatibility, making them the perfect choice for new mothers during their postpartum recovery.
If you are interested in placing an order for our premium Maternity Pads, we encourage you to contact us at your earliest convenience. Our dedicated team is eager to discuss available options, potential customization features, and provide pricing details, ensuring a seamless and gratifying procurement process.